Howdy from Amarillo, Texas!
It's hard to believe 3 months have passed since our last post. Time truly does fly—fun, work, service, family and friends continually filling the turning calendar pages.
We visited the Utah west desert a couple more times rockhounding for bixbyite, red beryl, pink topaz, sunstones and garnets (Ely, NV) and agate (Wendover, NV). There is something about discovering naturally formed stones and gems that is exciting and adventurous. We have put the 4Runner's 4WD to good use on the desert roads and mountains. A new awareness and appreciation has grown, searching for small and beautiful remnants of nature's handiwork—reminders of the blessings hidden in so many small and God-provided things in life.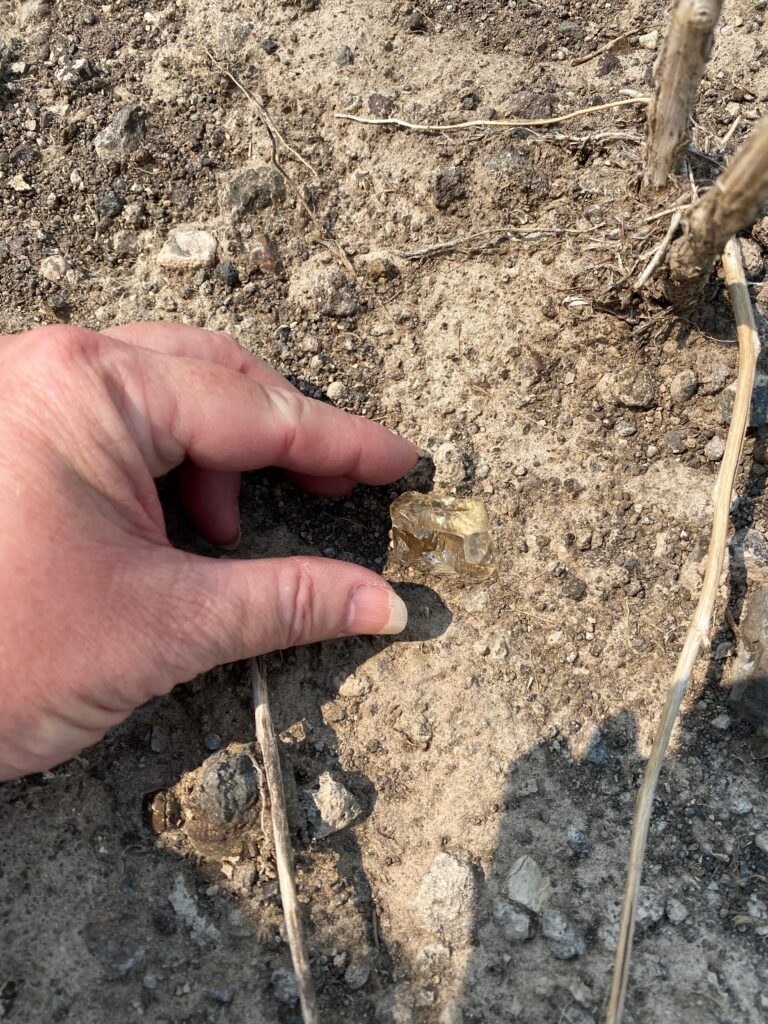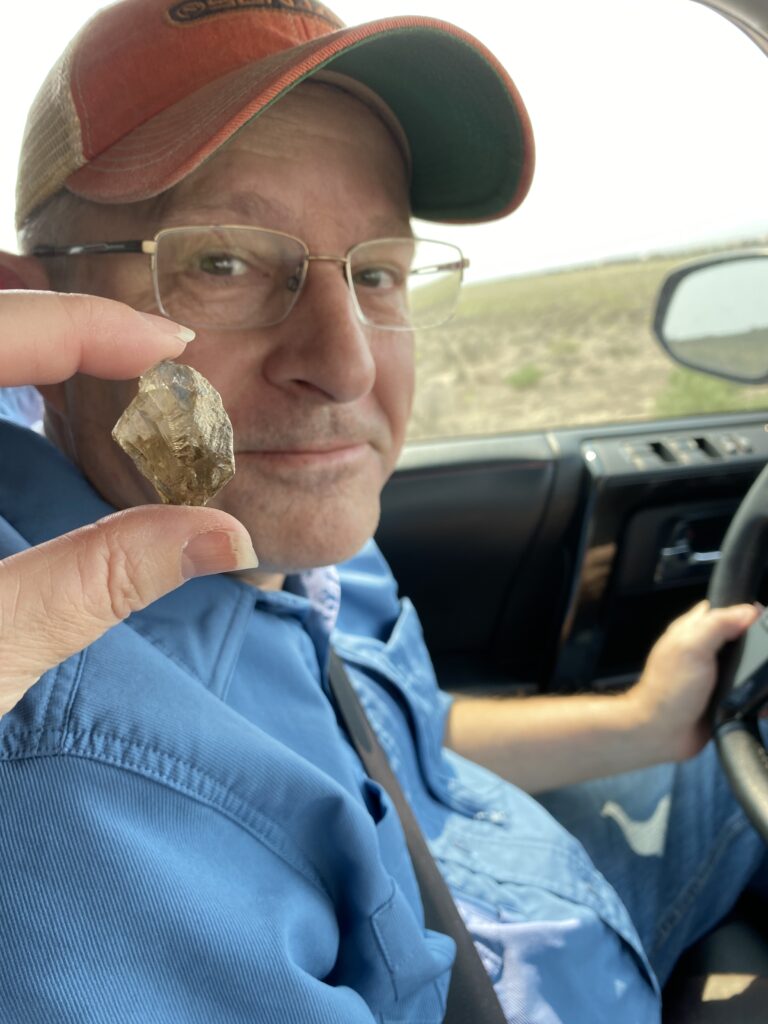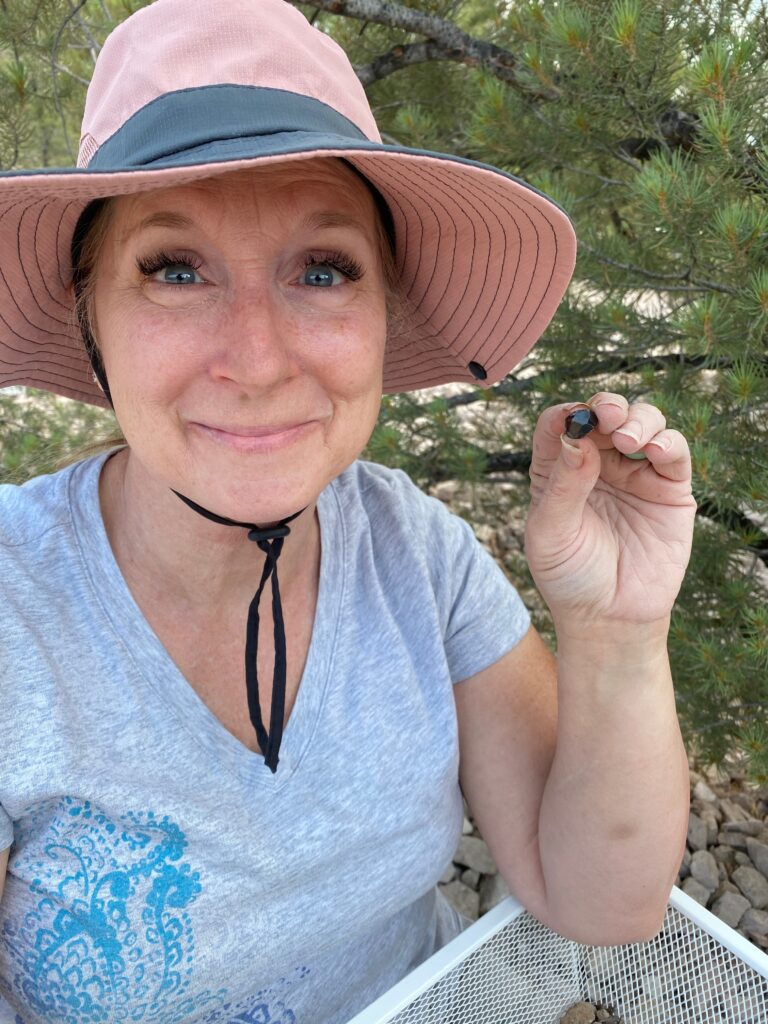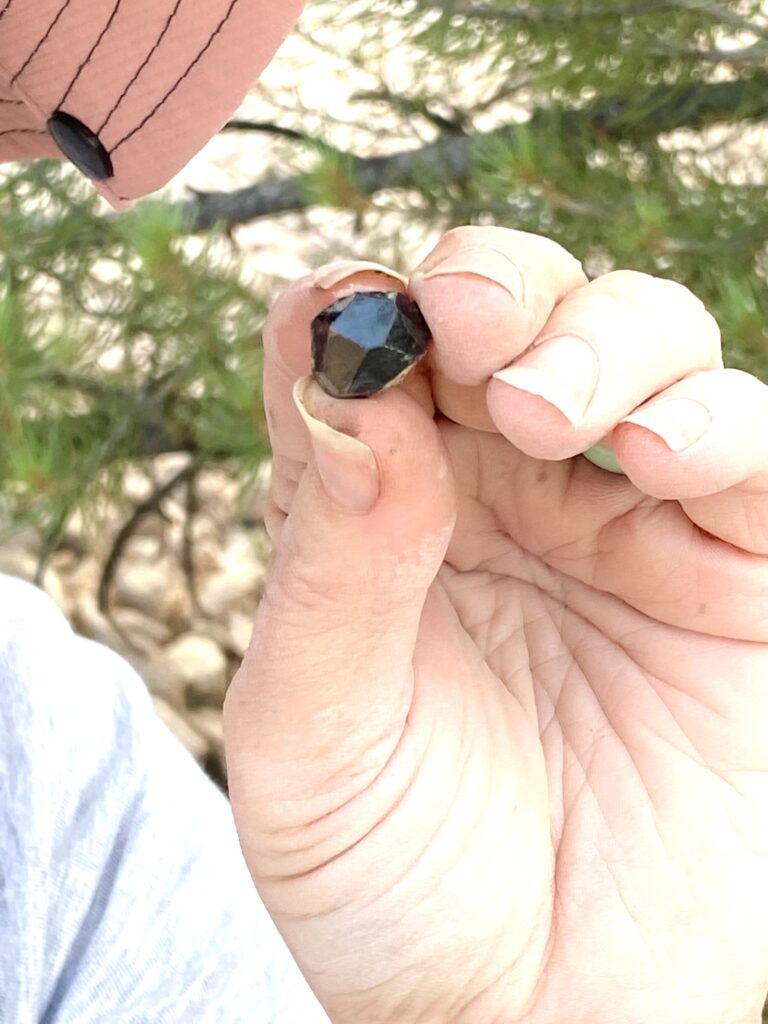 It has been great to share time with immediate and extended family and friends in the past few months. We have also found projects and simple ways to provide service (mostly anonymous) everywhere we go. Sometimes it's as simple as striking up conversations with complete strangers and making surprise connections, even in places as small as Albany, Wyoming (population 52). Seems like a lot of good could be done in the world, if folks just looked for ways to reach out and uplift others each day, rather than being so caught up in the thick pursuit of thin things.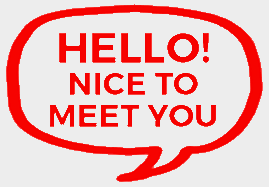 After finishing the summer in Lehi, we travelled to Modesto, CA for a few weeks of work catch up and coordination. It was eye-opening on both ends of the pendulum as we drove through the beauty of the Nevada mid-section with its unique desolation (loneliest highway in the US), and through beautiful Yosemite over Tioga Pass . . .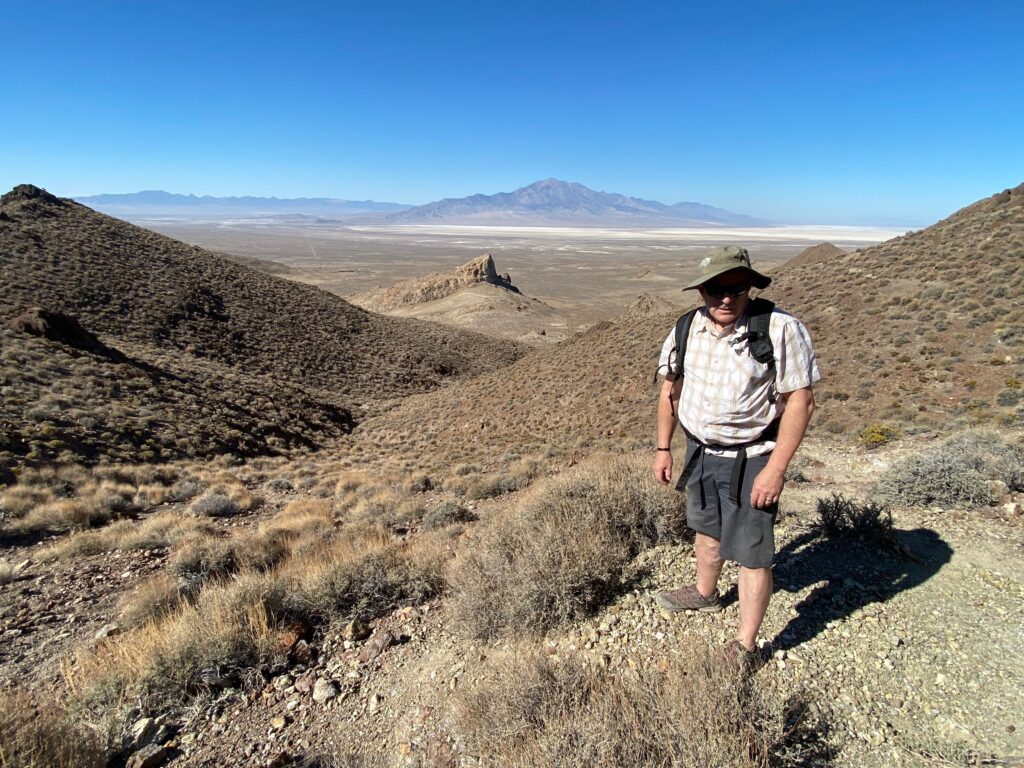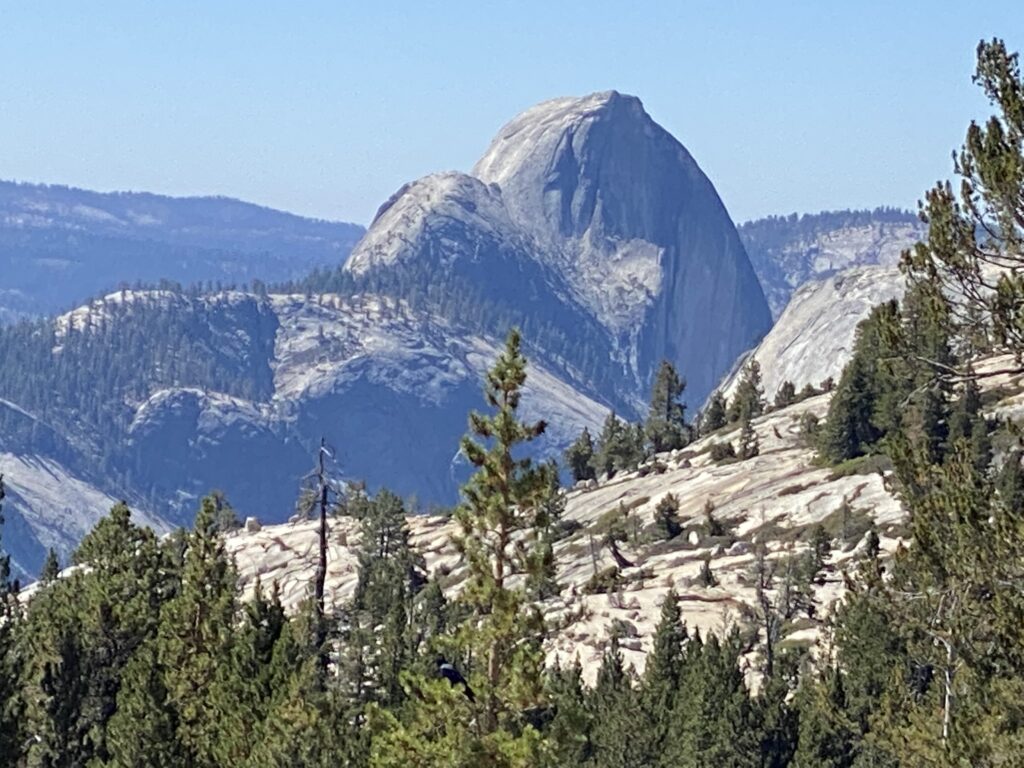 . . . then into the central valley of California, with glaring signs of social division and its consequences. We were a bit shocked to observe the increased numbers of homeless shelters and shanties in CA. While In Modesto, Karen confronted and chatted with (before he ran away) an early morning backyard intruder at our Airbnb, who had let himself in our private gate and was checking for unlocked doors and windows. Another unsettling sign of the desperate situation there.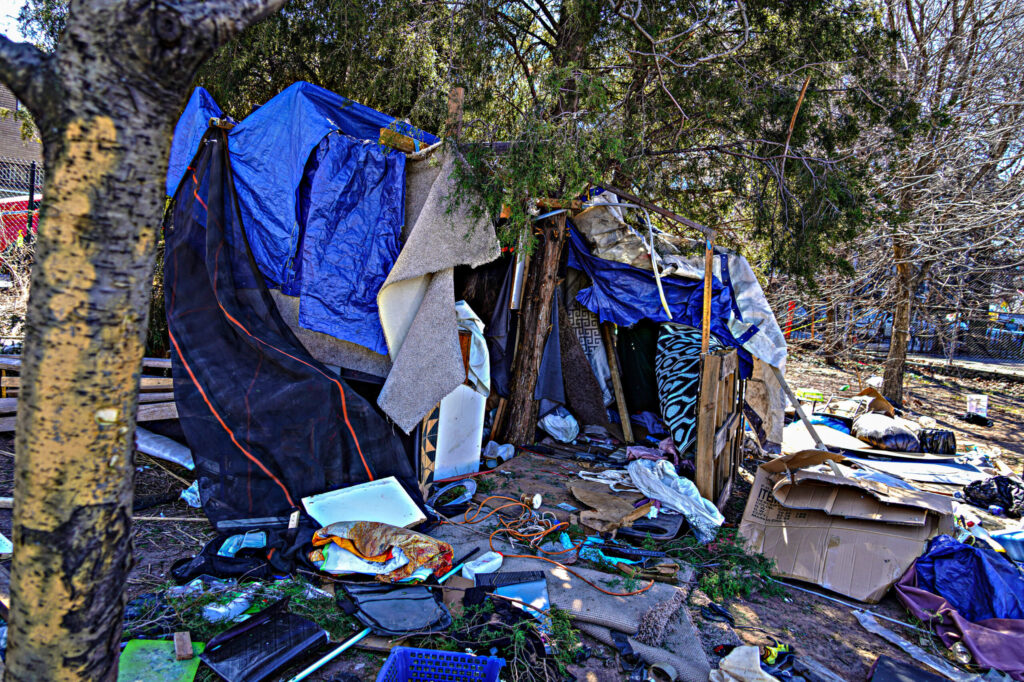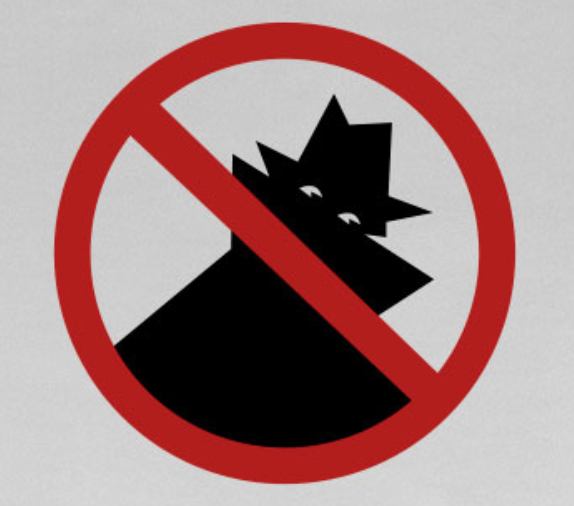 While Jeff worked hard at the office, Karen volunteered a few times at the Salvation Army food bank, digitized her mother Ann's journals, and went on some long human-powered gravel bike rides on the canal banks, country roads, and city streets (yikes!) of Modesto.
Together with family, we were able to remember those who have preceded us in eternities' chapters, as we marked the 3rd anniversary of Braden's passing. Megan's grave was also decorated with fall foliage when we returned to Utah.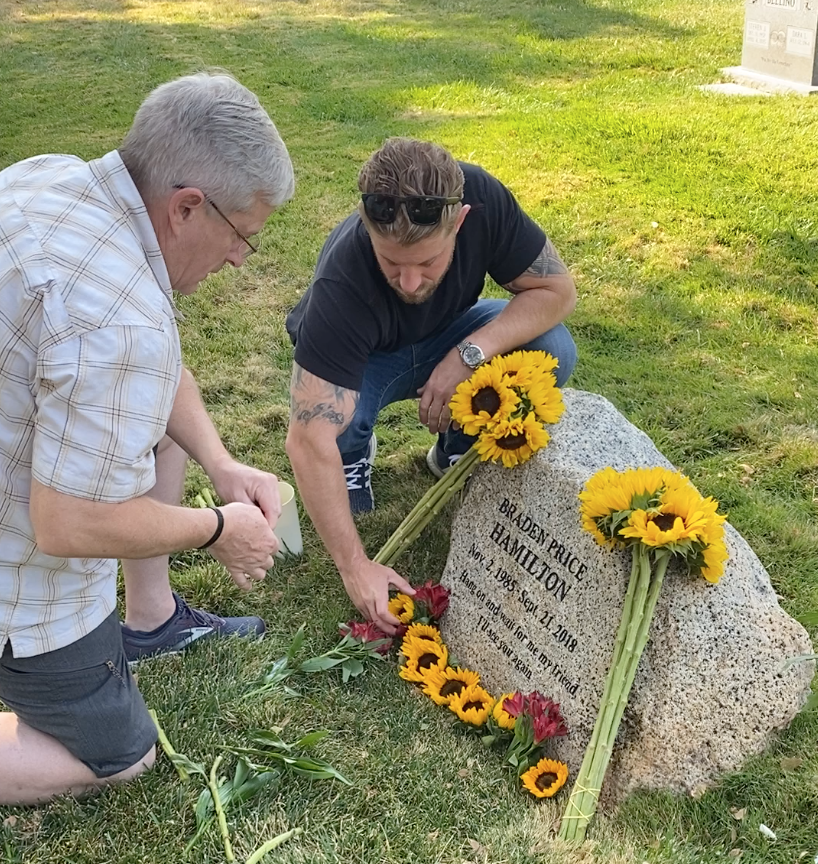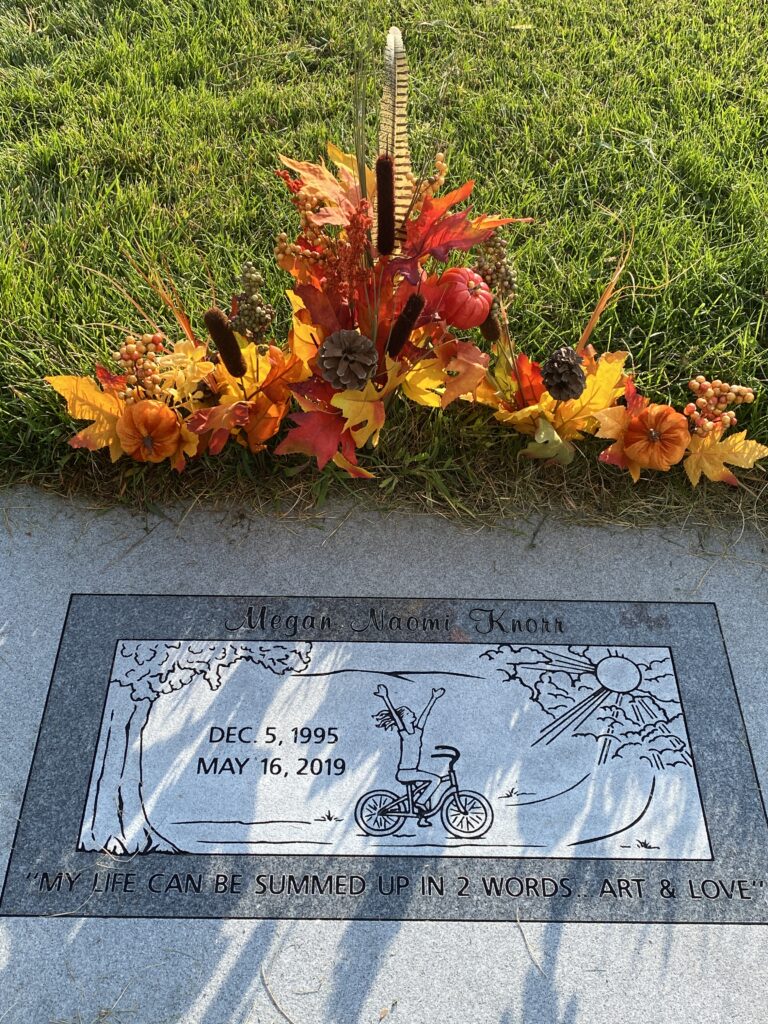 After a quick changeover back in Lehi, we left on our fall adventure October 3. Our first stop was Albany, WY, where we had lots of fun dirt biking . . . until an unfortunate hand injury (thankfully no broken bones). We then proceeded to Erie, CO and spent a wonderful week with son Jordan and his master (Roman the French Bulldog), visiting and helping with Choice House. Karen found some great bicycle trails, and we were able to locate a small local food pantry in need. There are ways to help no matter where we all are.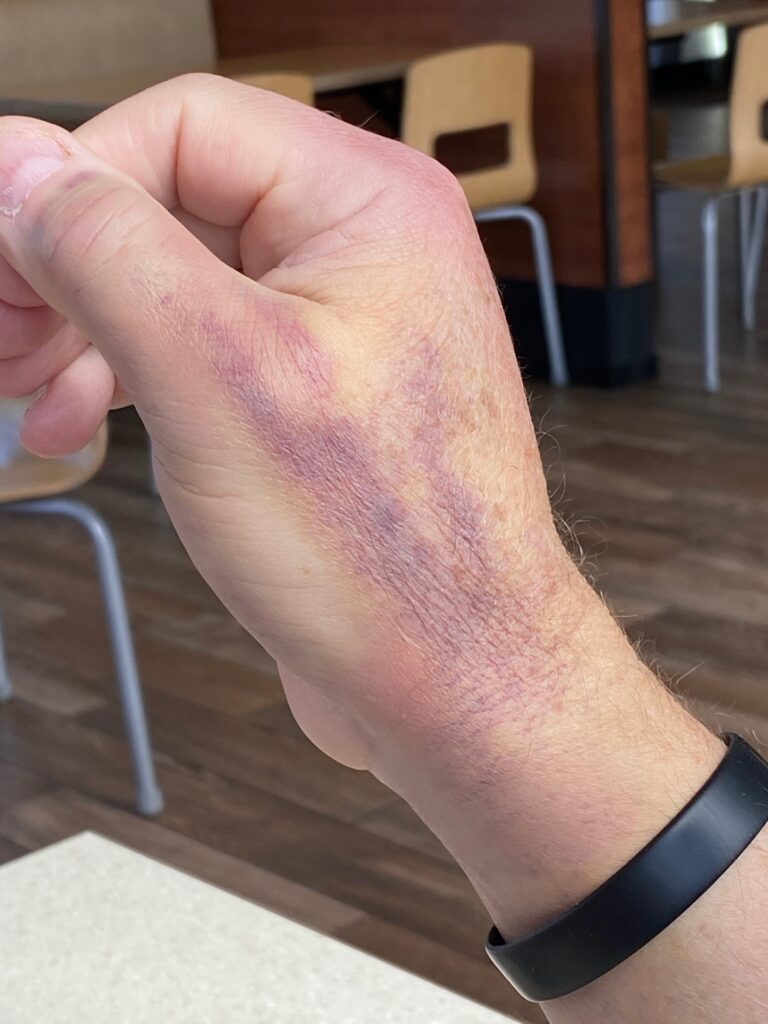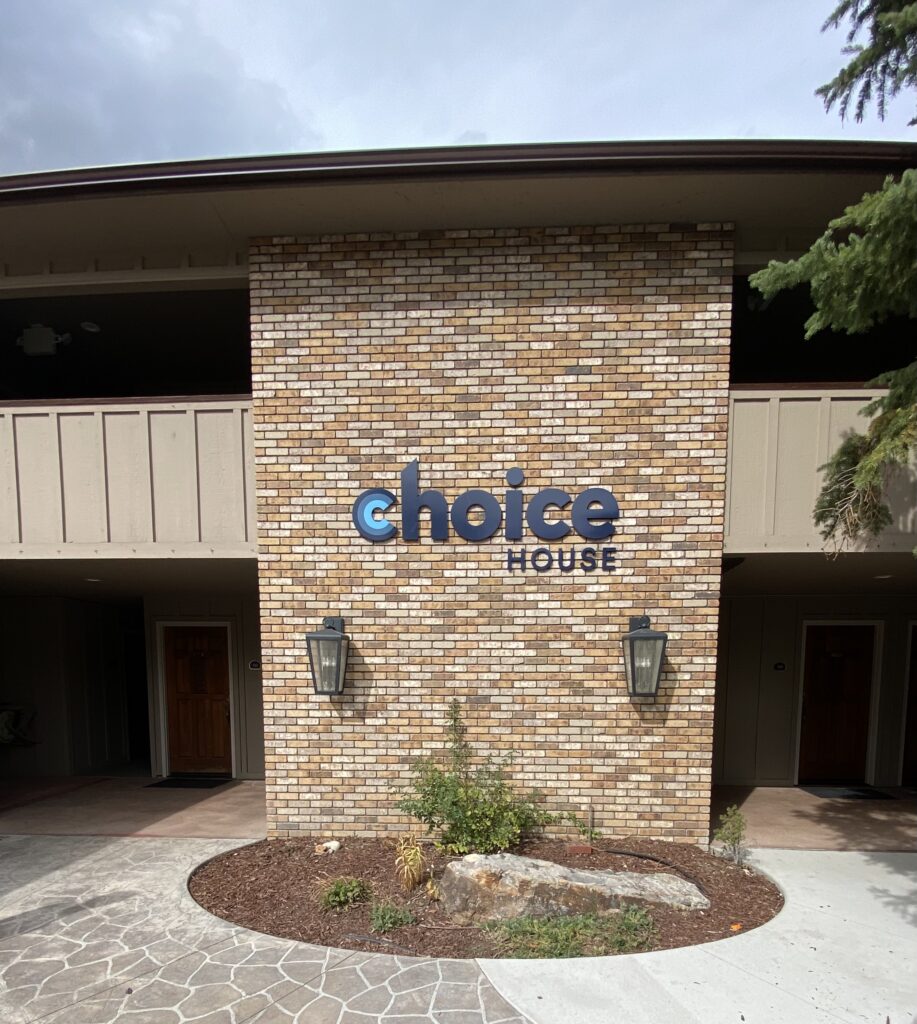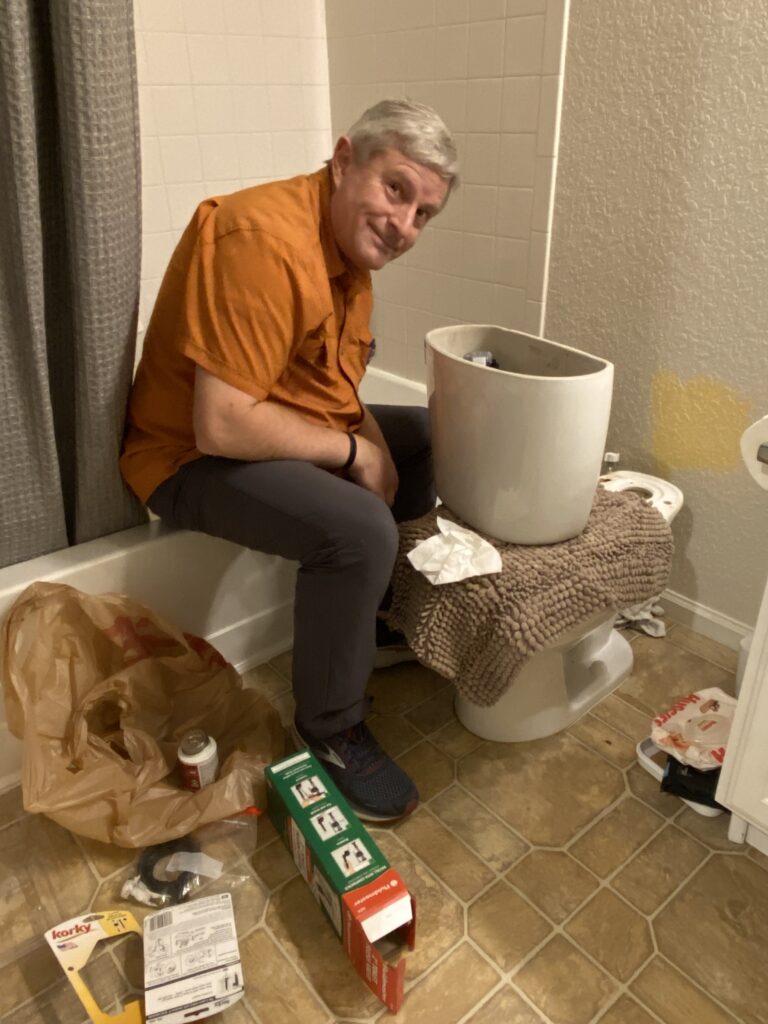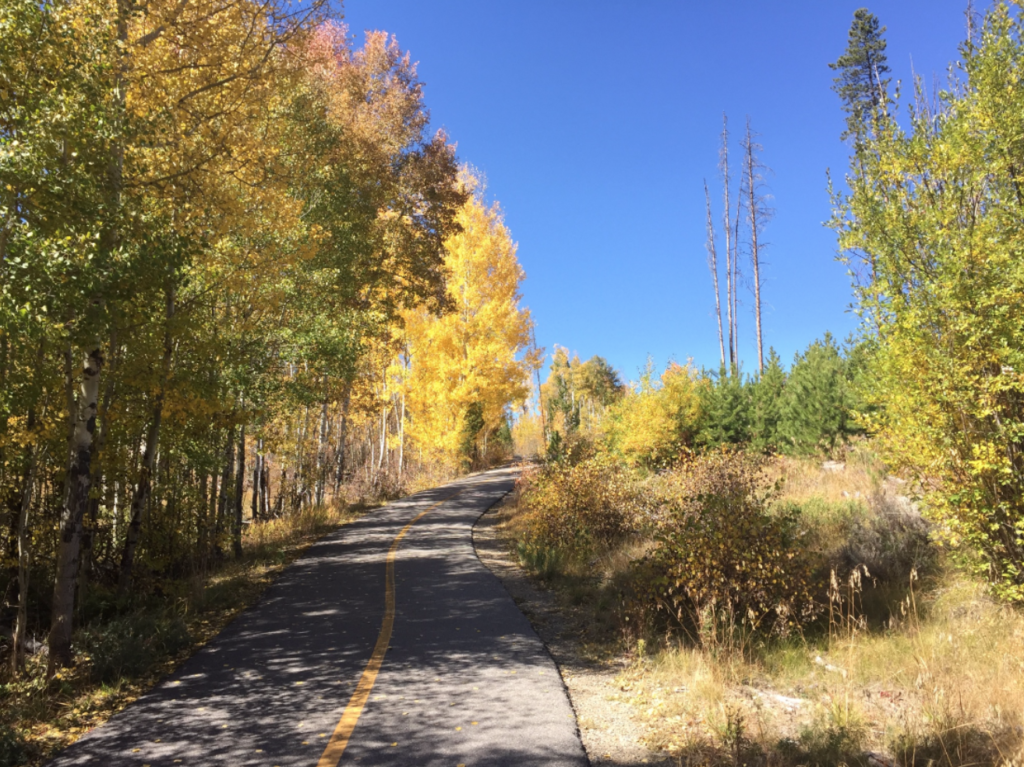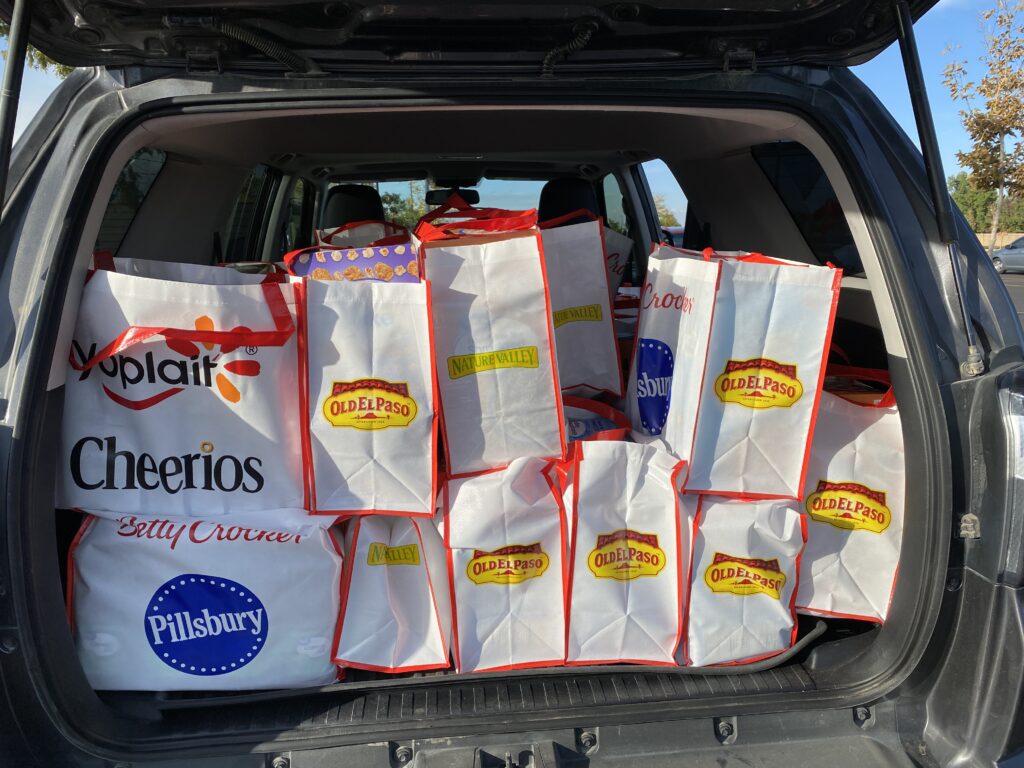 As we start our sojourn through Texas and Arkansas over the following 8+ weeks, we look forward to seeing more family, making more friends, serving more strangers and yes, sampling a small steak or two at the Big Texan steakhouse in Amarillo!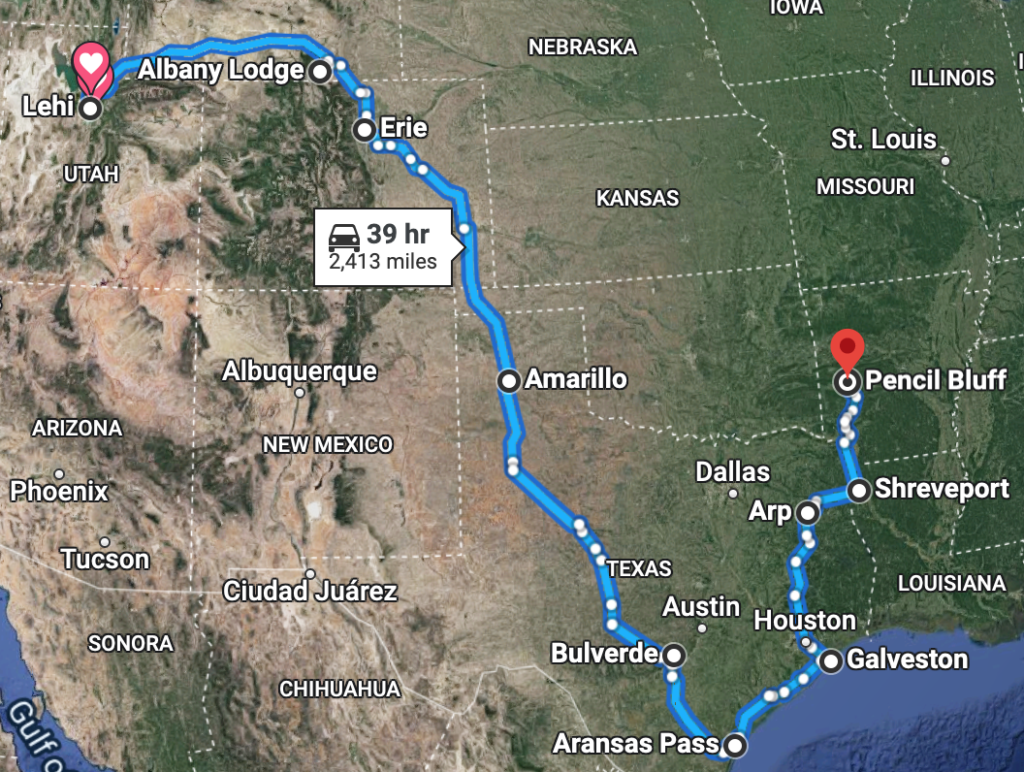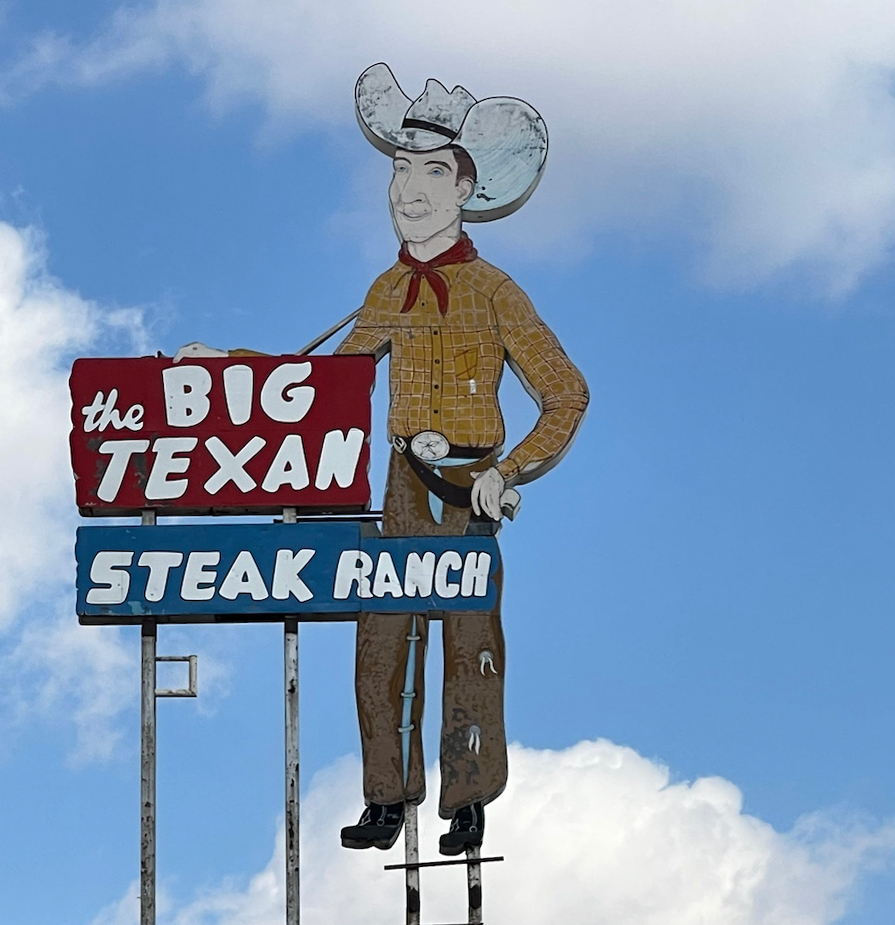 Upon reflection, the past months have seen new and unusual levels of societal shifting, COVID-19 swings, global unrest and, unfortunately, increased tensions surrounding political positions and special interests. As we were driving through the thriving metropolis of Carlin, NV a few weeks ago, there were some people on its only highway overpass with flags and a simple sign "United We Stand." Sure seems like a good idea—respect the differences among us with tolerance and love, and look for the good in life and others, to unite in positive and productive ways.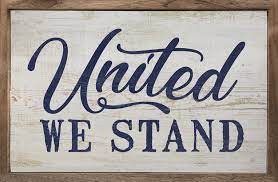 We experienced this in August, when a strong windstorm in Lehi blew over a huge tree in the neighborhood. One person sent a text and we were blessed to be part of a community group that quickly assembled and within 45 minutes cut, cleared and removed the entire tree. Great things can be done in unity….